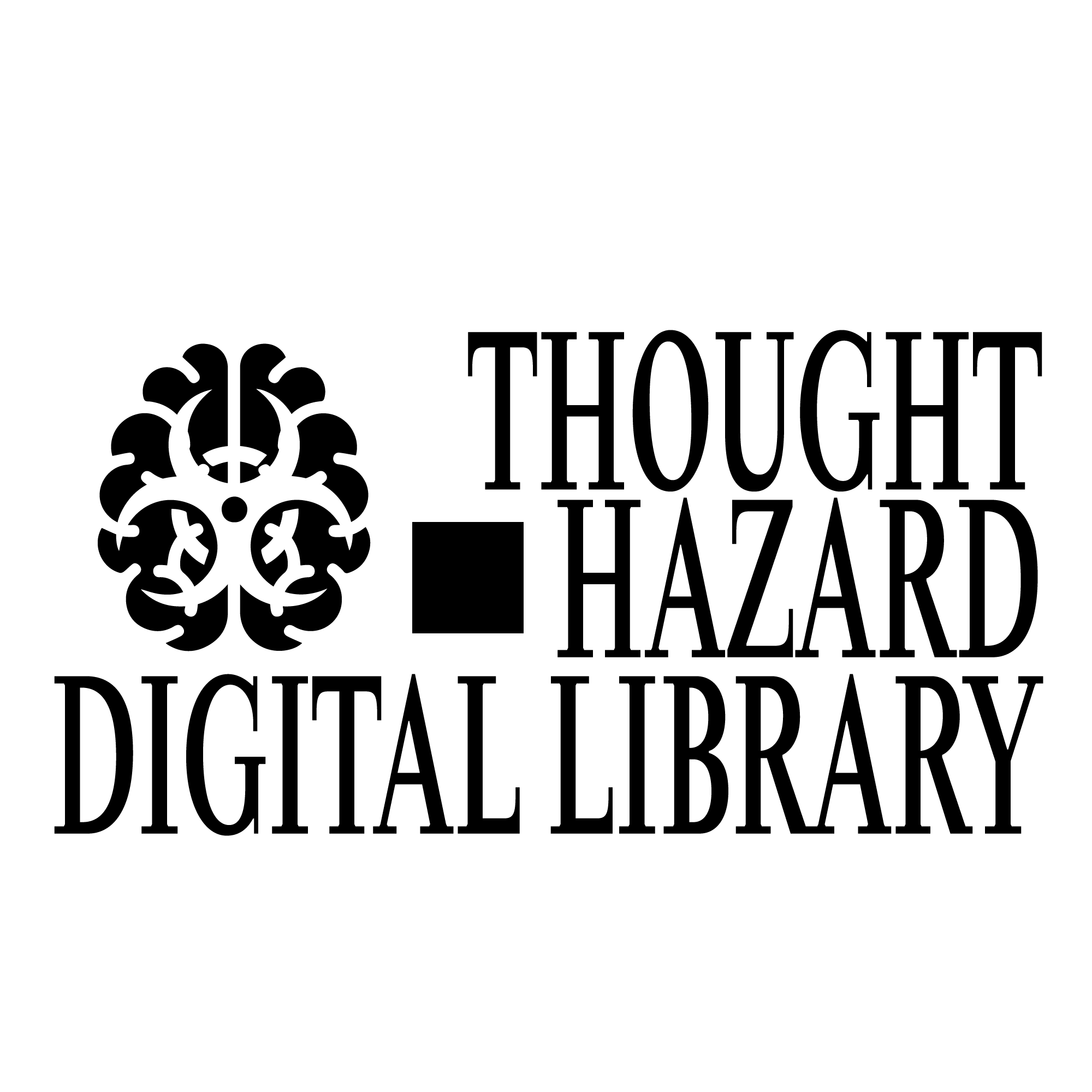 Hello. Welcome to THOUGHT HAZARD. You're currently on our Neocities frontend. We will not be here forever, but we like it here. It is kind of quaint.
THOUGHT HAZARD is a digital library and internet archive intended to offer knowledge and resources for design, technology, cybernetics, and the web. The site is regularly and constantly updated.
THOUGHT HAZARD has a focus towards teaching and resources for beginning designers, artists, technologists, and anyone interested in creative applications of computing. It also focuses on providing emancipatory & anticapitalist frameworks and information for experienced users. This site is not particularly picky and is down to upload whatever seems cool and would fit with the website. The scope of the site topics may expand in the future.
THOUGHT HAZARD is probably not legal or in compliance with copyright laws in any country, including yours. Please use the website and its materials as much as you want, but be discretionary with who you share it with as to not blow up the spot. This website is, and forever will be as long as it is online, free. And if you like this site, start your own.
If you'd like, feel free to peruse some delightful reading.

10.13.23: In conjunction with Gum.mp3 and Black Audio Society's radio broadcast on Dublab, there are new arrivals to the library.
04.17.23: First update of the year. There are new arrivals to the library.
09.25.22: There are new arrivals to the library.
where should i start?
The best method of using this site is to click around and check out any title that sounds remotely interesting or tied to your interests. The person that compiled this library and wrote this message (and is talking to you, the reader) did not go to a design school or a CompSci program or an art school. All you need to engage with this website is curiosity, an open mind, and a desire to make a world even slightly more interesting than the current one.
As a rule of thumb, the site has been split up into categories roughly based on the concepts of: Learn - Practice - Think
Resources and learning materials for people who are interested in learning design & creative computing from the very beginning. (Base, Level One)
Resources and materials for furthering your practice (Level Two)
Resources on critically understanding design and tech, Expanded works that may not be explicitly related to learning design or technology itself but clearly motivates and expands the framework, whether by craft or by politic. (Level three)
anything that is cool enough to be here but not specifically related to the four above categories, like zines, style guides, "generously borrowed" industry reports, etc (Terminal Dogma & Beyond.)
More specifically, if you are interested in learning about design or teaching yourself design, check out the resources provided in Base and Levels One and Two. However, you might still find stuff in Level three and level four enlightening or interesting to you even if you've never opened photoshop, picked up a brush, or hit "inspect-element" on a website. (don't do it here, it looks like a warzone.) Definitely take the time to check out every category - you might find something you did not even know you were looking for.
 

                                                                               
                              &@@@@#         #@@@@&                             
                            @@@@@@@@@@     @@@@@@@@@@                           
                              @@@@@@@@@   @@@@@@@@@                             
                   @@@@@@@@@@   @@@@@@@   @@@@@@@   %@@@@@@@@@                  
                  @@@@@@@@@@@@@@@@@@@@@   @@@@@@@@@@@@@@@@@@@@@                 
                  @@@@@@@@@@@@@  @@@@@@   @@@@@@   @@@@@@@@@@@@                 
                        @@@@   @@@@@@@@   @@@@@@@@   &@@@.                      
               @@@@@@@        @@@@@@@@@   @@@@@@@@@        @@@@@@@              
            @@@@@@@@@@@@@    @@@@@@@@@@   @@@@@@@@@@    @@@@@@@@@@@@@           
          &@@@@@@@@@@@@@     %@@@@@@@@@   @@@@@@@@@@     @@@@@@@@@@@@@@         
          @@@@@@@@@@@@@@      @@@@@@@#     /@@@@@@@      @@@@@@@@@@@@@@         
                @@@@@@@@@     @@@               @@@     /@@@@@@@@               
            @@@@@@@@@@@@@         @@@@@   @@@@@         @@@@@@@@@@@@@           
         @@@@@@@@*    @@&.         @@@@   @@@@          .@@    .@@@@@@@@        
       #@@@@@@@@@@                                             #@@@@@@@@@%      
       @@@@@@@@                        .@&                        @@@@@@@@      
        @@@@@     %@@@@@@@@@@@@      /@@@@@@      @@@@@@@@@@@@@     @@@@@       
          @@   ,@@@@@@@@@    @@@@@    @@@@@    @@@@@    @@@@@@@@@%   @@         
                 @@@@@@@@@       @@           @@        @@@@@@@@                
       @@@@  @@@@@@@@@@@@@     @@@@@         @@@@@     @@@@@@@@@@@@@  @@@@      
       @@@@@@@@@@@@@@@@@@        ,@@         @@@        @@@@@@@@@@@@@@@@@@      
        @@@@@@@@@@@@@@@@   @@@/   @@         @@@   @@@   @@@@@@@@@@@@@@@@       
          @@@@   %@@@      @@@@@@@@           @@@@@@@@      @@@@   @@@@         
                @@@@@@@@     @@@@               @@@@     #@@@@@@@               
              @@@@@@@@@@@@@           @   @           @@@@@@@@@@@@@             
              @@@@@@               @@@@   @@@@               @@@@@@             
              @@@@@@@@@@@@@@   &@@@@@@@   @@@@@@@@   @@@@@@@@@@@@@@             
               @@@@@@@@@@@@@@@@@@@@@@@@   @@@@@@@@@@@@@@@@@@@@@@@@              
                  (@@@@@&   @@@@@@@@@@     @@@@@@@@@@   %@@@@@%                 
                          @@@@@@@@@@.        @@@@@@@@@@                         
                          @@@@@@/               /@@@@@@